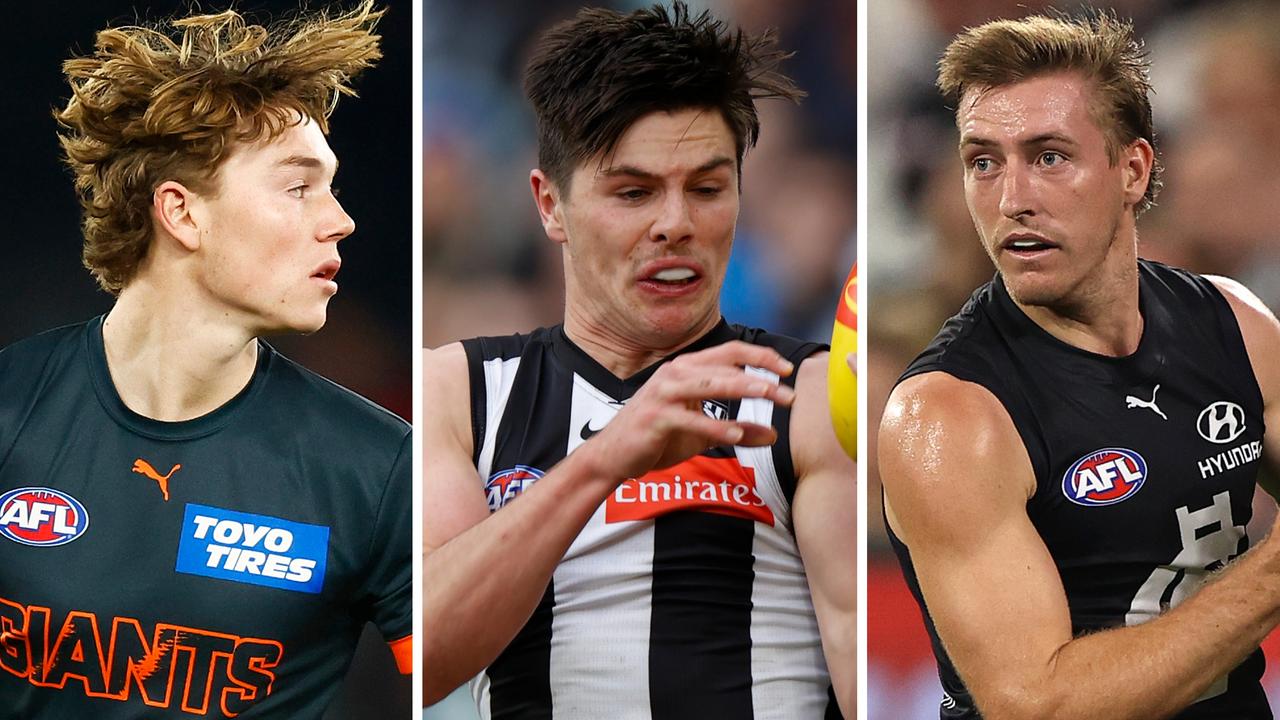 Trade Period Day 5 Friday Live Updates, Chat, Deals Won, Free Agents, Latest
Geelong landed a former first-round pick and a swap of six picks should allow them to add another.
As other clubs begin to despair with a possible exemption granted.
Find the AFL business news from Friday 7 October in our blog below.
Watch Trading Day every weeknight from 5:00 PM EST on Fox Footy – daily news and analysis from the AFL trading period. Stream it live or on demand on Kayo. New to Kayo? Start your free trial now >
LATEST FOX FOOTY PODCAST – Summary of the commercial period so far; Dons latest disaster
How did Dunkley get to the Lions? | 02:09
6:00 p.m. – BOMBARDIERS READY TO BOUNCE ON THE BLUE
Several outlets report that Essendon are in talks with Carlton over a deal for midfielder Will Setterfield.
The 24-year-old looks likely to join the Bombers next week in a deal for a late draft pick.
Essendon loved Jack Bowes but are instead likely to add the big Setterfield to their midfield mix for 2023 and beyond.
The former Giant would join his third club after playing two games at GWS and then another 55 at Carlton over the past four seasons.
He fell out of favor at Princes Park, even being pushed on a wing, but Blues commercial rookie Blake Acres will take on that role next year.
"In a perfect world, we would love to keep Will. We've been pretty clear about that," Carlton roster boss Nick Austin said this week.
"Again he has a desire to play AFL football and if it's at Carlton or if there's an opportunity elsewhere then that's something he has to weigh up."
Essendon holds picks 42 and 62, with the latter potentially enough to seal the deal.
4:10 p.m. – CHOOSE A TRADE TO HELP UNLOCK HENRY DEAL
Geelong sent five draft picks to Brisbane in a bid to satisfy Collingwood for Ollie Henry.
The Cats were given pick 25, which they should offer the Magpies for the 2020 first-round pick.
In exchange, the Lions significantly increased their draft hand, being awarded picks 38, 48 and 55 this year, as well as the Cats' future second- and fourth-round picks.
It's worth noting that Geelong's future second-in-command was due to travel to Gold Coast in Jack Bowes' wage discharge, so they will have to find another choice for this deal.
Brisbane gained a further 218 draft points to bid on Will Ashcroft and Jaspa Fletcher in the process, plus a solid pick next year (future fourth probably irrelevant).
The Lions currently have over 3,600 points. An Ashcroft offer will cost them 2400 points at Choice 1, while Fletcher should cost them another 700-800 points – but they also have to trade for Josh Dunkley, so they're not done negotiating.
Will the cats trade catch them Henry? | 01:39
4pm – BRUHN OFFICIALLY A CAT
As expected, Tanner Bruhn was traded to Geelong in exchange for pick 18.
3:30 p.m. – THE EAGLES PLAY HARD BALL ON RIOLI
The West Coast are reportedly ready to let Junior Rioli go to the pre-season draft as 'problems' emerge in talks with Port Adelaide.
Rioli requested a transfer to the Power before the trade period, but Ken Hinkley's side face a delicate balancing act with the trade of Jason Horne-Francis under contract, as well as the utility Cats looking for Esava Ratugolea.
On Friday, AFL Media reporter Damian Barrett told Trade Radio the Eagles were unhappy with talk of Rioli so far.
"They (Port Adelaide) are having issues with the West Coast over the Rioli trade, and I understand the West Coast, just to make a point, will be ready… to let this one play out and unless they don't get what they want from this, they'll let it walk to the (preseason draft)," Barrett said.
"Once again, it's up to Port to make this deal."
3:15 p.m. – CLUBS TRY TO CHANGE THE RULES
Several AFL clubs are hoping they can go against future pick swap rules and send in their 2023 caps to unlock deals.
Reporting by Cal Twomey of AFL Media the league could grant exemptions to teams, which are currently limited by the rule that states you must use at least one first-round pick over a four-year period – and ideally two.
For example, the West Coast would need a bye to trade a first-round pick that has only made one first-round pick in the past four years.
"Clubs are looking to see if there are any provisions in the rules that could allow them to swap future first-round and second-round picks to unlock deals," he wrote.
"Byes are allowed in the 'first two rounds in four years' rule. Could shape some of the big deals to come.
1:40 p.m. – BOWES' BREAKTHROUGH AS TRADE LIES
Gold Coast's offer to swap Jack Bowes and pick the No.7 at Geelong has taken a step forward, with the two clubs meeting AFL player movement leader Ned Guy on Friday afternoon.
Bowes named Geelong as his preferred destination after attracting significant interest from Hawthorn and Essendon, with the Suns handing over the No. 7 pick in exchange for the Cats taking his $800,000-a-year salary over the next two seasons.
The Cats are expected to sign Bowes to a four-year contract, smoothing out his contract.
7 News reported on Friday that the two clubs have met with the league over the deal.
Geelong are expected to part ways with a future pick in order to gain league approval.
11:15 a.m. – CATS AND GIANTS AGREE ON THE BRUHN CASE
Geelong and Greater Western Sydney have agreed a deal which will see the No.18 pick swapped for Tanner Bruhn.
Bruhn was one of three key targets for the Cats this trade period along with Collingwood's Ollie Henry and Gold Coast's Jack Bowes, who would come packaged with the No. 7 pick.
Foxfooty.com.au has confirmed that the Cats and Giants have agreed to a deal that will see the No. 18 pick swapped for Bruhn, who was picked along with the No. 12 pick by the Giants in the 2020 draft.
It bolsters the Giants' sizable draft hand this season, adding a fifth top-20 pick to their lineup of selections.
10:45 a.m. – GREATS SAY FREO OFFER FOR "NOT FAIR" JACKSON
AFL greats Kane Cornes and Matthew Lloyd believe Fremantle must increase their current offer of two first-round picks for young Demons ruckman Luke Jackson.
A report in the sun herald say Melbourne are 'invited' to consider Fremantle's best offer of Pick 13 and a future first-rounder for Luke Jackson so the Demons can continue their pursuit of Collingwood big man Brodie Grundy.
But Melbourne would be digging in their heels and demanding two top-10 picks or one top-seven and a future first-rounder.
Dees wants top 10 picks for Jackson | 02:55
And talking about AFL Commercial Radio, Cornes says he also thinks the current Dockers proposal isn't good enough for the old Pick 3.
"If I were in Melbourne I would not accept Fremantle's best offer of Pick 13 and a future first-round pick for Luke Jackson given he is the most valuable prospect on the table," said the legend of Port Adelaide.
"It's not fair, I don't think – Pick 13 and a future first – (the latter) that would be about the same (as Pick 13). So two late first-round picks for Luke Jackson, I don't think that's fair value.
"If I was in Melbourne, I would continue to hold on and look for a bit more."
Lloyd added: "I'm with you, I don't think that's enough. I think there has to be something in the top 10 this year for them to trade Luke Jackson.
10:30 a.m. – RICHMOND WITHDRAWN GIANTS' OFFER FOR RALPHSMITH
Richmond have reportedly rejected advances from the GWS Giants for young gun Hugo Ralphsmith as part of the Jacob Hopper deal.
Channel 7's Mitch Cleary reports that Ralphsmith's name has been thrown into trade talks alongside Richmond's Pick 31 and a future first-rounder, with new Giants coach and former Tigers assistant Adam Kingsley seen as a a huge fan of the 20-year-old.
However, the report says Richmond had no interest in dealing with Ralpsmith.
Dockers secure former Suns forward | 00:39
"He was knocked down pretty quickly, he got out of the Tigers team at the end of the season, but that's not going to happen," Cleary said.
"But Adam Kingsley wanted to get the ball rolling on that."
It is now likely that Tigers ruckman Ivan Soldo will instead be included in the package sent to the Giants, with the big man having passed a medical with the Sydney-west-based club.
6:00 AM – BULLDOGS WILLING TO USE DRAFT OPTION ON DUNKLEY
The Western Bulldogs are said to be willing to use the pre-season draft if Brisbane don't raise their offer for Josh Dunkley.
The club were reportedly 'irritated' by the state of trade negotiations yesterday, especially after the Lions traded their first-round pick (No. 15) to GWS for a second-round pick this year and next.
The Bulldogs want two first-round selections, and Brisbane are only willing to send their current first-choice (No. 21) and first-round pick of 2023 if they recover 30 and 39.
Indeed, the Lions need draft points to match offers on No. 1 prospect Will Ashcroft and likely first-rounder Jaspa Fletcher. They could keep the Pick 21, which they received from the Giants, and trade it on draft night if an offer comes in for Ashcroft at No. 1 for more points.
But with neither side appearing interested in involving a player in the deal, multiple outlets reported that the Bulldogs would be willing to use the preseason draft – potentially keeping Dunkley in the process.
"The best or the worst thing" for Rankine | 03:49
The pre-season draft is risky, as any club can pick up the player, in reverse order of last season's ladder (just like the original domestic draft order).
However, players can name the terms of their contract, as seen when Carlton nabbed Jack Martin, the ex-Sun heavily loaded his contract with around $1 million in his first season, meaning that few rivals had the ability to place it below the ceiling if they chose. at the top.
Essendon could be the big beneficiary if Dunkley heads into the preseason draft, as they were in talks to land him two years ago and have significant cap space.
The Bombers would pick ahead of Port Adelaide, which Dunkley has also considered this year, with the Bulldogs (who could draft him) and Brisbane coming after that.
Brisbane football boss Danny Daly seemed optimistic a deal could still be reached to bring Dunkley to the Gabba over the next six days.
"We think we're on track to close the deal at some point, but out of respect for the Dogs, I can't explain what it looks like at this time. We're working on it by the minute and hopefully that everything will be ticked off in the next few days or so," Daly told Trade Radio on Thursday.
The Lions are also looking to find a trade for Jack Gunston, who is a free agent, as trading for him would ensure their compensation pick for the loss of Dan McStay is not weakened.
They would likely send a pick in the 40s or 50s to Hawthorn for the veteran goaltender.
Relive our AFL trade chat from 9am-5pm EDT below!