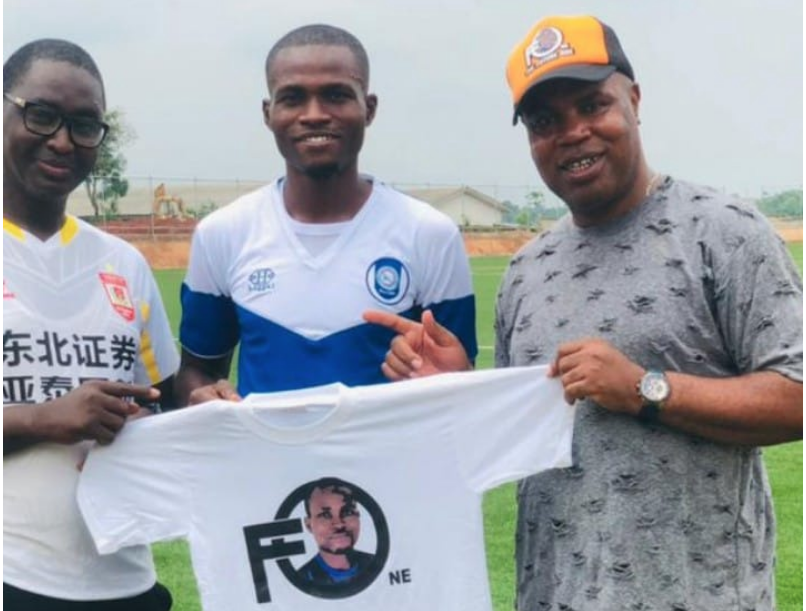 Odion Ighalo's agent backs young Nigerian coach for future glory
Former Super Eagles striker, Odion agent Jude Ighalo, Atta Aneke has supported a burgeoning young Nigerian football coach Jamiu Mohammed Isa for future glory and incredible thrills in the gaffer profession.
Isa is already making waves with his catchy nickname, 'The Future One', as he continues to generate ideas and efforts that place him among Nigeria's most promising next-generation tacticians.
And this despite the fact that he embarked on the coaching profession barely seven years ago, when he made it his mission to recruit talent on the pitch, a few months after his return from England, where he had spent a few years playing the game of round leather.
His aspirations for a career in football were however shaken by a nagging knee injury which he had treated since his days in Nigeria with Community Action Through Sport (CATS) and the British Council sponsored National Grassroots Dream Team.
Isa's return to Nigeria was never a fluke, as he took the opportunity to fully embark on the coaching profession, for which he seemed most inclined as captain of the Grassroots Intermediate Team.
He enhanced his natural leadership qualities by attending various career development workshops and internships, as well as advising on coach education programs, while continuing to gather ideas from football coaching experts for young people. young people during his days with CATS.
In his actual career, Isa began with great zeal under the guidance of a renowned television football analyst turned administrator, attorney Godwin Dudu-Orumen of Cowbell Football Academy, from where he graduated. at Help The Talent Project (HTTP), both outfits based on Surulere. helped by giving him a very stable base and foundation as a coach.
Subsequently, the light-skinned boy, who played as a center-back in his Lagos debut and was first treated by "Coach Ekine" at Godwin Okpara FC in Ebute Metta, joined a philanthropist and Leading youth developer Emma Odogwu. at Dominion Hotspur FC in Surulere, where his bond with Aneke ignited.
Aneke has now joined in the rain of praise for the defender-turned-blunderer, as the man who took Ighalo to Manchester United in England and many other clubs before taking part in Isa's latest promotional campaign, which many friends also call 'Pep Guardiola from Nigeria.'
Isa's latest promo depicts him in several branded T-shirts with his face sporting a large "O" in the foreground of a small "F", to jointly represent "The Future One", which is the trendy nickname that Now propels Jamiu Isa as a Nigerian tiara to watch for years to come.
It's also another breath of fresh air added to the growing brand image Isa is creating for herself, dating back to her beginnings with CATS's Dreams & Teams project, as well as her days as a trainee coach. under the auspices of the Premier Skills Youth Workshop at Lagos National Stadium, Surulere.
A quote in January revealed that being a part of regular Premier Skills programs taught Isa how to "use the popularity and power of football to change his community," and that's what comes from this very creative youngster. , who attended Ayetoro Senior Grammar. School, now vice-president of Youth Sports Initiatives and former deputy director of the HTT Football Academy.
Earlier this year, Isa said he was excited that he will be able to make his mark in Nigerian football and possibly help the country achieve greater achievements in the game across the continent and the world once he he will have defined his technical capacities after those of Guardiola, whose nomenclature is now one of his nicknames.
The young tactician, who is also a Premier Skills community coach educator, after a high-level British Council-sponsored course in Lagos, which he attended alongside other teeming youngsters and a few Nigerian training veterans , added that he wanted to do more. than just having Guardiola as a nickname.
Therefore, Isa adopted a catchy nickname for himself, as his escalating brand and label is now 'The Future One', which is different from the former Chelsea of ​​England and the current boss of England. Tottenham Hotspur, Jose Mourinho's label of 'The Special One' and David Moyes as 'The Chosen One', when he first took office at Manchester United.
Isa doesn't look back, because he's looking to the future, just as his favorite nickname says, and the former tall defender, who is also a good referee and organizer of youth programs, says his goal is is to become one of the biggest in Nigeria. coaches of all time.
These targets are now paramount for the fair-skinned boy, who grew up in Ebute Metta, before joining the National Grassroots Dream Team camp in the Kilo area in Surulere, alongside Shakiru Abikoye, Solomon Joseph and Michael Andrew. , based in France, as well as former Golden Eaglets winger Seyi Adeleke and former Super Eagles forward Nnamdi Oduamadi.
He concluded with a verdict that adopting Guardiola's ideas, philosophy, style and tactics would help him achieve his goals in the shortest possible time, even as he embarked on a development agenda. Interstate loaded with Dominion Hotspur, as a team that counts Ighalo's agent among their European scouts, aim for bigger brands in 2021.
Isa said in a recent social media post: "The difference between players is not always the quality they have, but their mentality for high performance.
"How can we help our players change their mindset from pretending to compete and never letting conditions take over their performance.
"Players set the tone for their performance behaviors before competing with the support of their coach. (They) don't just play, but have to be mentally strong in every session, game.
"(They) shouldn't let opposition, mistakes, goals and conditions take charge of them. They have to get into the habit of looking after themselves no matter what.