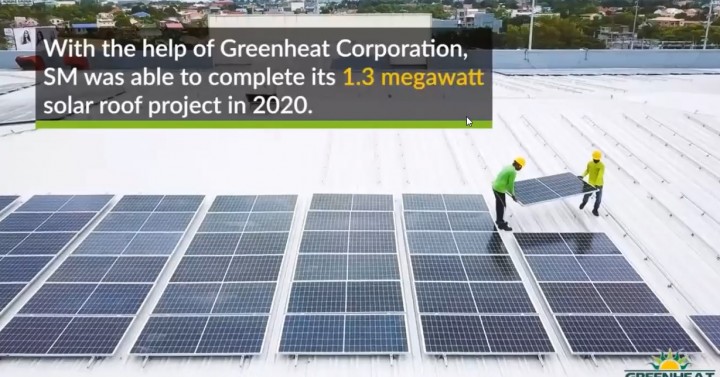 No more biz getting solar power
MANILA – Commercial establishments that source electricity from renewable energies such as solar energy are on the increase in the country.
Managing director of solar power supplier Green Heat Corp. Robert Martin said at a press briefing on Friday that the company has six to 12 megawatts of rooftop solar projects this year despite the pandemic.
"It will depend on the situation in particular of limiting travel, limiting work on various entities that require swab testing (and) vaccination that actually limits us. But they're already in the pipeline and we're in this contemplative situation, "Martin said.
Green Heat director Glenn Tong added that most of the company's customers are those who use a lot of energy during the day, such as shopping malls, offices, manufacturing plants and even apartment buildings.
On Friday, Green Heat and SM City Bacoor launched the 1.3 MW rooftop solar power plant, using the 6,230 square meter roof of SM City Bacoor.
This made Cavite's first SM shopping center to have a solar powered roof.
Green Heat installed a total of 3,114 solar panels at SM City Bacoor.
Martin said the installed solar roof can generate up to 40% of SM City Bacoor's electricity demand.
The shopping center has a daily energy requirement of 1.6 MW.
"Yesterday (May 27), the plant produced about 6,500 kilowatt-hours (kWh) of clean energy and provides 700 kWh for the mall," Martin said.
On average, SM City Bacoor is expected to save PHP 10.3 million by supplying its electricity demand from its own solar power plant, Martin said.
He added that the facility will also reduce more than 8,000 metric tonnes of carbon dioxide emissions.
Energy Use Management Office director Patrick Aquino told the Philippine News Agency that the Department of Energy (DOE) is working with stakeholders to encourage them to harness renewable energy. such as solar roofs as a source of their electricity.
"We are working with our stakeholders to make the process of securing and accessing these technologies more accessible to everyone," Aquino said in a text message.
In February, the DOE issued a Departmental Circular (DC) requiring that buildings with electrical loads of at least 112.5 kilovolts amperes or with a total gross floor area of ​​at least 10,000 square meters be supplied with at least 1 percent of their annual electricity needs. energy.
Martin said the DOE order is timely and meets the Renewable Energy Act.
DC will also lead to higher demand for solar installations in the near future, he added.
"It's a step in the right direction. Anything the government does to support renewable energy is a good thing, "Tong said. (PNA)