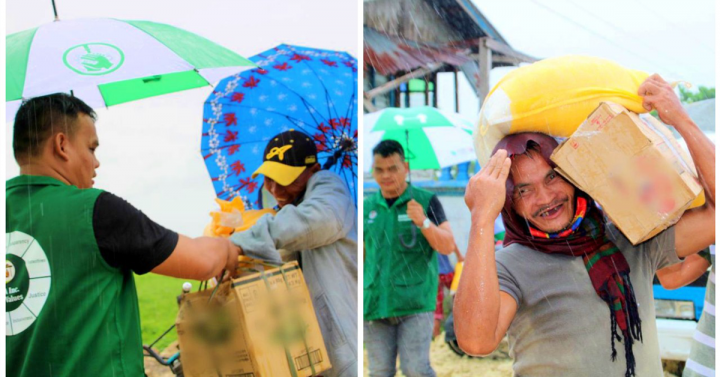 NGOs from Turkey and Germany send food parcels for Ramadan
CITY OF COTABATO – International non-governmental organizations (NGOs) from Turkey and Germany have sent 4,000 food parcels for the Bangsamoro observing the fasting month of Ramadan, the Bangsamoro Development Agency (BDA) said on Tuesday.
In a statement, BDA noted that Turkey has supported the Mindanao peace process by sponsoring many development and humanitarian projects in the Bangsamoro Autonomous Region in Muslim Communities in Mindanao (BARMM).
For this year, the Turkiye Diyanet Vakfi (TDV) or Turkiye Diyanet Foundation, started since last week to distribute food parcels to 1,500 families in the city of Cotabato and in the municipalities of Sultan Kudarat, Datu Blah Sinsuat and Parang, all in Maguindanao.
TDV also provided gift packages to some 500 Moro orphans containing a prayer dress with a 'hijab' (Muslim women's head covering) and veils for girls.
A group of about 500 women and widows in Maguindanao and boat operators in Cotabato City also received food parcels.
Distributions are underway and are expected to last until the end of Ramadan, BDA said.
Meanwhile, representatives of the Weltweiter Einsatz für Arme (WEFA), a German international humanitarian organization, also distributed 100 food parcels to the destitute and regularly sponsored free meals for "iftar" (breaking the fast) at selected orphanages. of the city of Cotabato.
"WEFA also sponsored gifts for orphans that made their Ramadan more meaningful," the BDA said in a statement.
Volunteers from Insani Yardim Vakfi (IHH), a conservative Turkish NGO, joined their counterparts in delivering 1,400 food parcels to poor families in Maguindanao as well as 'iftar' to some orphanages in the area .
Beneficiary testimonials
Saadia Alipolo, 64, from Barangay Matuber, Datu Blah Sinsuat, Maguindanao, received 16 kilos of rice along with other foodstuffs this Ramadan.
Living with her family of four, with grandchildren, Saadia said the items will be good enough for the family's meal for at least seven days.
Bong Ansa, a farmer and fisherman, has four children and was happy to receive food parcels for the fasting period.
Another beneficiary, Nasir Bunter, a fireboat operator with five children, was not bothered by the heavy rains just to bring relief to his family for Ramadan. They come from Barangay Katidtuan, Sultan Kudarat, Maguindanao.
"Shukran (thank you), we will have food for suhoor (morning food)," he said in the vernacular. (NAP)