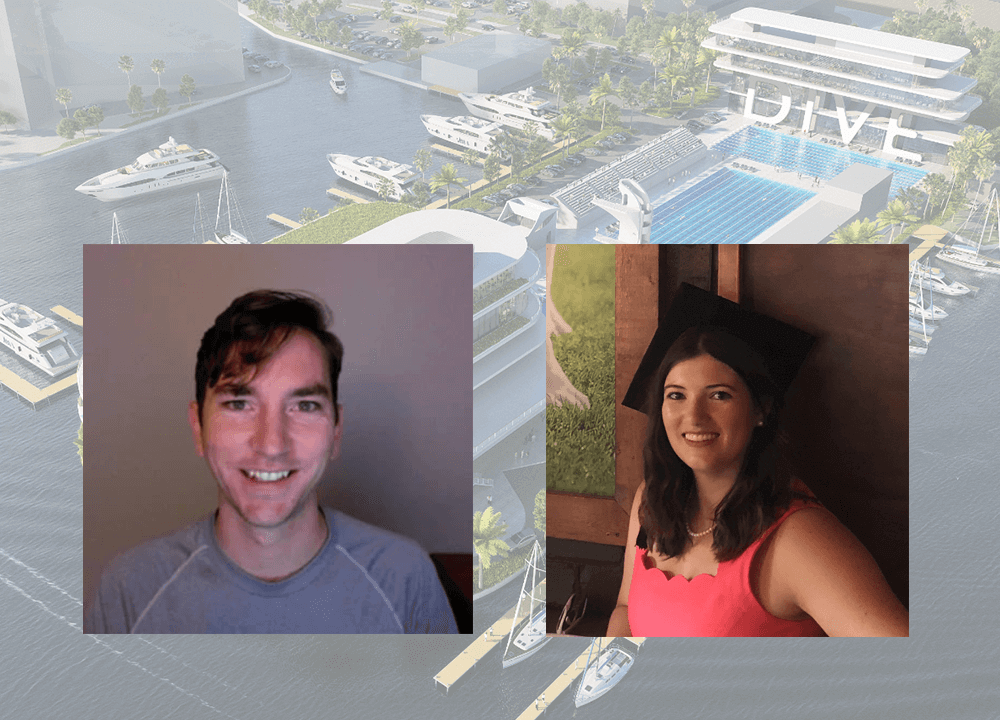 New Hall of Fame hires Kyle Mills, Ashleigh Shay join staff
The International Swimming Hall of Fame and the Swimming World are delighted to announce that Kyle mills and Ashleigh Shay joined the ISHOF staff.
Kyle Mills will hold the title of Chief Technology Officer. He comes to us after working at the American Swimming Coaches Association for 3 years where he did the following:
Supervised all digital marketing, web development, video content creation, partner and sponsor management, customer service and virtual clinics.
Creation and maintenance of the ASCA DOC Talks learning initiative, ASCA LIVE and the ASCA Talks library.
Kyle Mills is an autonomous and intuitive learner. He impressed me with his ability to be a team player when he led ASCA in creating more efficient work systems replacing staff work during COVID-related staff reductions at ASCA. – Brent Rutemiller, CEO of the International Swimming Hall of Fame
Prior to ASCA, Kyle was Director of the Video Assessment Program at GoSwim.tv. During this time, he analyzed thousands of movements of swimmers,
Kyle received a Bachelor of Science in Exercise Science from Towson University in 2014 and continued his education with the following certifications:
Microsoft Certified: Azure Cloud Computing, 2021
Business Data Analytics, at Coursera via Duke University, 2021
Specialization in Software Project Management, by Coursera and University of Alberta, 2020
Kyle will work closely with Steve west – Web Developer, Brent Rutemiller – CEO, Laurie Marchwinski – COO, Ashleigh Shay in Marketing. Its main goal is to update the technology of the organization with better tools for managing databases, e-commerce, content and analytics.
Ashleigh will hold the title of Marketing and News Manager. She was born out of our internship program working with Brandi as a Marketing Coordinator where she performed the following tasks:
Supported the development, implementation and management of the Swimming World and International Swimming Hall of Fame social media strategy

Creation, publication and engagement monitoring of social media content for water sports (swimming, water polo, diving, synchronized swimming)

Collaborate with editorial and marketing teams as needed for news event coverage, advertising and customer content marketing

Communicate with aquatics industry professionals, athletes and influencers via social media to build a strong network
It makes us extremely proud that Ashleigh has gone from being self-employed to being a full-time employee. His attention to detail and ability to quickly learn and apply his knowledge is impressive. We are also excited that she brings marketing perspectives to the younger generation and has insight to capitalize on social media trends – Brent Rutemiller – CEO of ISHOF
Prior to joining us full time, Ashleigh worked at Georgetown University at McDonough School of Business as well as sports communications at the University of Georgia.
She graduated from the University of Georgia with the following credentials:
Master of Science, Sports Management and Policy with a specialization in finance, contract law, marketing, 2019

Bachelor of Journalism, Public Relations, Cum Laude, 2017

Graduated from the Grady Sports Media Certification Program, 2017

Minor in Communication Studies with a concentration in Social Media and Mass Communication
She will work directly in sales, marketing. She will also attend the posting online biographies for ISHOF inductees and current athletes, maintaining online records, writing sponsored articles and helping with breaking news.
Related