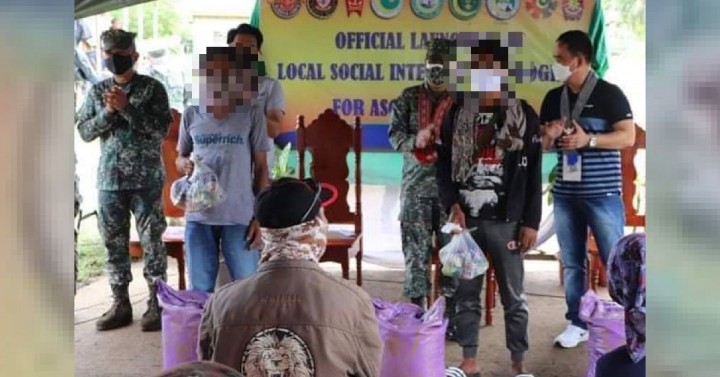 Launch of the ASG former bandits integration program
CITY OF ZAMBOANGA – The Marine Battalion Landing Team-7 (MBLT-7) and the Municipal Task Force to End Local Armed Conflict (MTF-ELAC) of Kalingalan Caluang, Sulu launched a Local Social Integration Program (LSIP) to encourage the former Abu Sayyaf group (ASG) bandits to embrace a new productive life.
Col. Hernani Songano, commander of the 4th Marine Brigade, said on Wednesday that the recipients of the LSIP are 15 former ASG members from Barangay Kambing, Kalingalan Caluang, who surrendered to MBLT-17.
Julkiram Arastam, provincial tourism officer and focal point of the Sulu-ELAC Working Group, and the mayor of Kalingalan Caluang, Nurshamier Halun, joined Songano at the launch of the program on Monday in Barangay Kambing.
Songano said they had appealed to various civic groups and religious leaders in government agencies to help them resolve the livelihoods, beliefs, education and concerns issues of the 15 ASG cedants.
He said the same day that a community livelihood program, dubbed Habi for his Pagbangon, aimed at helping the people of Barangay Kambing generate income from indigenous handicrafts, was also launched with the inauguration of its building.
The livelihood program intends to amplify the government's overall ELAC efforts to improve the socio-economic situation of the community.
"The LSIP, with the convergence of our partner partners, aims to support the peace and development efforts of the 4th Maritime Brigade in the 2nd Sulu District. Such initiatives have paved the way for the full integration into the local environment of our former ASG members in our area of ​​operations, "Songano added.
"We need the pan-Canadian approach to address the concerns of our former GSU members and their dependents, to prevent them from going back to their old ways. As such, through the Local Social Inclusion Program, our collective efforts will effectively address serious concerns about development, governance and security, "said Lt. Col. Eduard Olaso, commander of MBLT-7. (ANP)