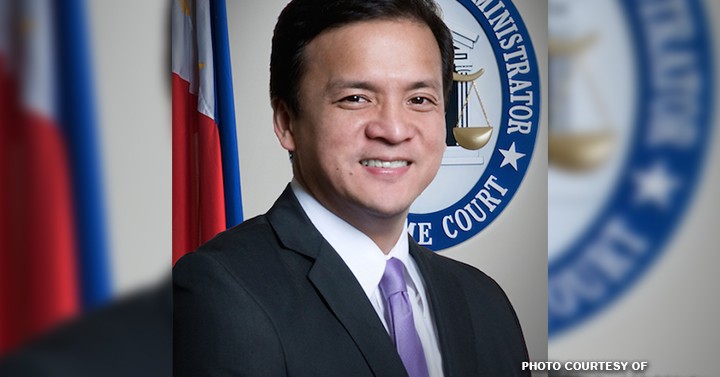 Jose Midas Marquez appointed SC judge
MANILA – President Rodrigo Duterte has appointed judicial administrator Jose Midas Marquez as the new associate judge of the Supreme Court (CS), Malacañang announced on Tuesday.
"I would like to announce that the Executive Secretary confirms that Jose Midas Marquez has been appointed Associate Justice of the Supreme Court. Congratulations to Judge Jose Midas Marquez," Acting Presidential Spokesman and Cabinet Secretary Karlo Nograles said in a virtual statement .
The palace has yet to release Marquez's nomination document.
Marquez has replaced retired deputy judge Edgardo delos Santos, according to a statement issued by the office of executive secretary Salvador Medialdea.
In a message to reporters, the SC said Marquez's appointment was dated September 27.
At 55, he is the second youngest member of the SC, after Ramon Paul Hernando who is six months younger.
This appointment brings to 12 the judges appointed to the higher court with associate judges Benjamin Caguioa, Marvic Leonen and Estela Perlas-Bernabe, the other persons appointed by previous administrations.
Marquez is also the sixth graduate of the Ateneo Law School of the High Court, including Chief Justice Alexander Gesmundo.
Three others are from the University of the Philippines and one from Ateneo de Davao, the University of Santo Tomas and the University of the East.
Before his new stint, Marquez was the 14th administrator of the tribunal.
He was alongside the late Chief Justice Renato Corona, who was impeached in 2011 under the Aquino administration.
He also oversaw the court's handling of the Maguindanao massacre case in 2009, in which 58 people were killed, including journalists.
His responsibilities included interventions in the management of lower court cases, overseeing courtrooms and courthouses, issuing circulars and memos, and providing assistance and information to the public.
He has also led various SC committees and projects.
Marquez began his career at the High Court in 1991 as a summer apprentice doing legal research in the office of a deputy judge while still in law school.
He then became a regular clerk of several judges of the SC until he became a court administrator.
He was also spokesperson and head of the SC Public Information Office, as well as chief of staff of the Office of the Chief Justice.
According to the Constitution, to be appointed to the Supreme Court, one must be a citizen by birth, at least 40 years old, and must have been a judge or have practiced law for at least 15 years or more.
An additional constitutional requirement, although less specific in nature, is that a judge "must be a person of proven competence, integrity, probity and independence". (ANP)