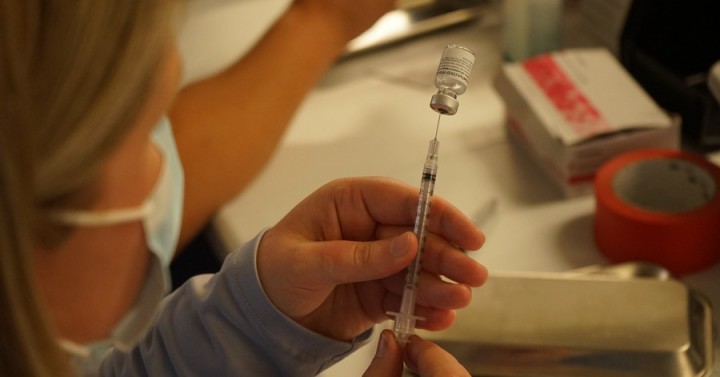 Health officials back FDA panel decision on booster injections
NEW YORK – Health officials on Sunday expressed support for the Food and Drug Administration (FDA) advisory committee recommendation that Covid-19 booster vaccines should be limited to those 65 and over and those at high risk, some hoping for wider use of the shot reminder at a later date.
Meanwhile, a "test-to-stay" strategy is gaining popularity among US schools to help more students stay on campus, as the pandemic continues to claim more lives in the United States.
According to the New York Times (NYT), the 7-day average of confirmed pandemic cases stood at 148,252 nationwide on Saturday, with a 14-day change reaching an 8% drop.
Coronavirus-related deaths were 2,012 on Saturday, with the 14-day change achieving a 30% increase.
Support for the FDA proposal
National Institutes of Health director Francis Collins told Fox News on Sunday that the guidelines released by the FDA panel on Friday were in line with what the US administration had planned for a booster deployment, although they did not are not identical.
"I think there is less of a difference between where we were in mid-August and what the advisory committee said last Friday," he said.
The administration announced in August that a rollout plan was in place for the booster injections that would be initiated on September 20, but also clarified that the plan itself was pending FDA recommendations.
Those eligible for a booster would be those who received their second dose six or eight months earlier.
Anthony Fauci, director of the National Institute of Allergy and Infectious Diseases, told NBC on Sunday that the plan initially announced by the White House was in line with the advisory group's recommendation. In the end, he thought the "right regimen" would include the original two injections plus a booster for everyone, although that may not be necessary at this time.
"You want to do it based on what the data is telling you, including the risk-benefit ratio, especially for young people who usually don't have as severe a disease as the elderly and the rest," said Fauci. "So I think there's a good chance that as we go into the months to come, into the next year, you'll see the data indicating the benefit of having a much wider coverage of people. . "
A decision on the FDA boosters is expected by next week, and a Centers for Disease Control and Prevention (CDC) advisory committee is due to meet Wednesday and Thursday to recommend how a third shot should be used.
The FDA advisory committee, following Pfizer's lead, recommended that the third injection be given at least six months after the second.
Test to stay
A growing number of school districts are turning to testing to keep more children in class and avoid disrupting their parents' working lives, the NYT reported on Sunday.
The resource-intensive approach, sometimes referred to as a 'test-to-stay' or modified quarantine, allows students who have been exposed to the virus to stay in school as long as they take frequent Covid-19 tests and adhere to other precautions .
Allowing children who have been exposed to the virus to stay in school poses a potential risk of transmission, and the CDC has said it "does not have enough evidence" to support the approach. Instead, he recommends that close contacts who have not been fully vaccinated be quarantined for 14 days.
"At this time, we do not recommend or endorse a test program to stay," the CDC told media, adding that "however, we are working with several jurisdictions that have chosen to use these approaches to gather more information ".
"Experts agree that children infected with the virus should self-isolate at home, but the question of what to do with their classmates poses a dilemma," the report said.
The CDC guidelines mean that a single case of Covid-19 in an elementary school, where students are usually too young to be vaccinated, can force an entire class of children out of school.
New York City school guidelines also state that all unvaccinated students must self-quarantine for seven to 10 days if a classmate contracts the virus.
As the academic year has barely begun, some districts in Florida, Louisiana, Missouri and other Covid-19 hotspots have already had to quarantine hundreds or even thousands of students.
As of mid-August, Mississippi had nearly 30,000 students in quarantine, according to data released to the state. (Xinhua)