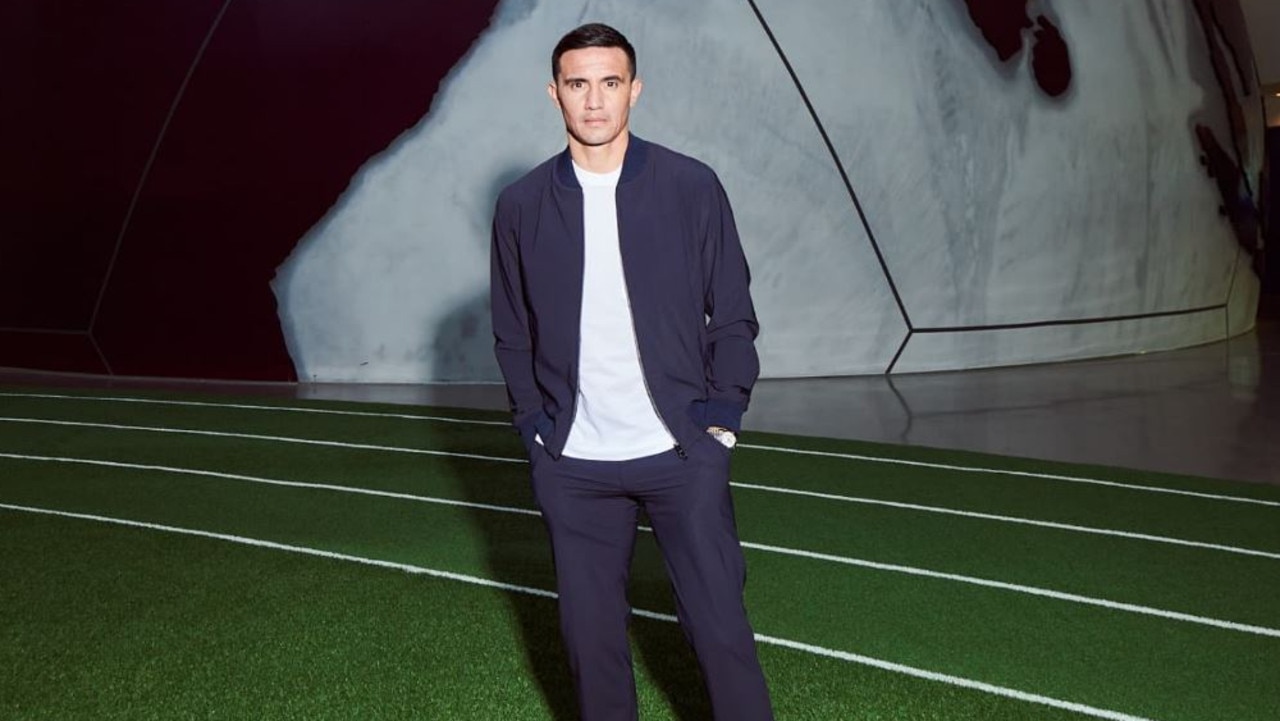 FIFA World Cup 2022: Tim Cahill's career is all about proving people wrong
Tim Cahill made a career out of proving those who underestimated him wrong. He tells ADAM PEACOCK about his big plans for the future.
Ask Tim Cahill what he's been up to these days and the answer takes almost five minutes.
The full-time position is sports director of the Aspire Academy, Qatar's ambitious sports project that aims to develop elite athletes, while also being a hub for international teams seeking training camps.
But Cahill has other jobs. Lots of jobs. His LinkedIn page is overflowing.
FIFA Ambassador. Ambassador of the Supreme Committee of Qatar (the organizers of the World Cup; Qatar does not make titles, or anything else, by halves). He is a member of the board of a KAS Eupen club in Belgium (owned by Qatari interests), helps the Sri Lankan and Liberian national associations and represents a number of sponsors.
And he has his coaching badges.
Coaching was to be his future. On the touchline, advancing a team.
"I was really interested in becoming a Premier League manager, or assistant manager," Cahill said. "[But] I thought I would never be home.
Instead, he went to school.
A business course at Harvard.
A FIFA Sports Management Diploma, which builds knowledge along the way.
Some of the best treats actually came from when he thought the sideline was for him. While completing his coaching badges, he spent time with master manager Carlo Ancelotti, while the Italian was with Cahill's beloved Everton.
While other managers like Pep Guardiola and Jose Mourinho have cult followings, with personality as much a factor in their mystique as their achievements, Ancelotti, by comparison, has quietly built a CV for the ages, winning domestic titles in the five major European leagues. (England, Italy, Germany, Spain, France) and four Champions League titles.
For Cahill, the time spent with calm ensured that Ancelotti helped prepare him for the next stage of life.
"The time I had with him every day was fantastic because he gave me insight into managing people," Cahill said. "Everyone constantly wants to find solutions, but they're not bothered by things you can't control.
"It sounds simple, but he actually implements it."
Cahill says Ancelotti helped him see what the future held for him.
"I was 41 and I was in no rush to be a manager," he continues. "He told me to breathe, you can be a manager whenever you want."
So instead, Cahill looked at the administration and dove right in.
*****
Mention Qatar in football circles and opinion is immediately divided.
The tiny Gulf state, home to less than three million people, won World Cup hosting rights under questionable circumstances in 2010 when bribes flew through the halls of FIFA as dust in a desert storm.
The introductory twelve years have been fraught with controversy, from accusations of poor human rights for migrant workers to concerns about gay rights, or lack thereof, and a fan experience far removed from the grog-infused gatherings of the Past World Cups.
Cahill, who has toured the world following his time in England, knows there are legitimate concerns but says there is evidence it will be a successful World Cup.
It's not for him to organize – Cahill's full-time job at Aspire is separate from the organizational structure of the Supreme Committee – although he is an ambassador and is happy to offer his point of view, which s relies heavily on diplomacy.
"I've lived in India and China, and traveled around the world through the Middle East with the national team," Cahill explains. "Wherever you go, you respect the culture.
"Similar to when people come to Australia, we expect people to respect our country. Qatar is a very hospitable country. With the fan zones and the ability to go to two games in one day…that will be an incredible World Cup.
Cahill was in Doha for the Socceroos' successful qualifier against Peru. He helped facilitate the stay and the preparation, which allowed the South Americans to pass.
Once qualified, Cahill helped broker a deal to ensure the Socceroos would have the best possible preparation for the tournament. The team will remain at Aspire Academy, a sprawling campus where every possible element towards sporting excellence is catered for, training grounds, recovery facilities and five-star living spaces.
It's a cross between the Australian Institute of Sport and a resort for the rich and famous.
"What the Socceroos will have as a setup will be transparent. It will blow them away," Cahill says.
Hosts Qatar will stay there, and possibly Ghana, with the other 29 nations staying in hotels dotted around Doha.
"Other nations won't have that as well, there will be huge benefits," Cahill said.
*****
Cahill has a curious relationship with gambling in Australia.
He was dropped as an aspiring teenage football player by Sydney Olympic. Too small, too slow was the blow. In retrospect, a regrettable decision for the club, but essential for Cahill, as he has since had something to prove.
He has scored 50 goals for the national team and is rightfully the main contender in the debate over who is the greatest Socceroo of all time.
Cahill played just one season in the A-League, with Melbourne City in 2016-17, and changed the needle in terms of attention and status for the competition. But the second season turned into frustration and he returned to his first club in England, Millwall, to secure a fourth World Cup.
It has opened him up to criticism over whether he has given enough back to the Australian game, which seems a ridiculous accusation given how much he has achieved in a Socceroos shirt.
This week, Cahill was in Brisbane to talk about the Qatar World Cup, but also to catch up with the Socceroos. On Thursday night, just before the game against New Zealand, Cahill spoke at a reception to celebrate the team's 100th anniversary.
The room of 400 fell silent as Cahill recounted what the shirt meant to him, through the story of his 2006 World Cup. The day before the opening match, he was in the starting lineup and visualized everything what was needed to have an impact on the game.
The next morning, after Guus Hiddink had a change of heart, Cahill learned he was on the bench.
"It tore me apart," Cahill told the room.
Of course, he used that disappointment as fuel when Hiddink introduced him in the second half against Japan, scoring not only the Socceroos' first World Cup goal but also a second in a famous victory.
The story encapsulates why the world opened up to Cahill and why it will never be confined by national borders. He is full of fuel to make an impact in whatever he chooses to do. It could have been as a manager, but now it's about wandering the halls of power.
"The sideline, I'll leave that to others," Cahill said. "It's in the boardroom and above that I think I can be really productive with international projects and learn more about how the game is run.
"My journey is to become fully qualified to run clubs and football federations, at a level that allows me to work with FIFA."
"Twenty years as a footballer was great. You walk in the door.
"But now I have a ticket that gives me a seat at the table."
One day he could be the leader.
"A big thank you to Sydney Olympic for that," he said to end our interview, before moving on to the next meeting, and the next opportunity.