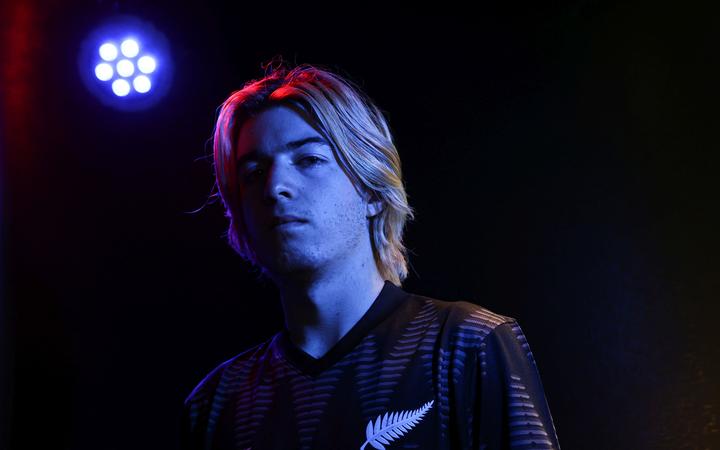 Esports athletes prepare for the Commonwealth Games
Gamers flexed their finger muscles and gray matter in the battle to find New Zealand's first Commonwealth esports athletes.
The final qualifying round for the EBlacks national team took place online Thursday night from homes across the country and a purpose-built studio in Auckland inside the Sky Tower.
Esports will be a pilot event at the 2022 Commonwealth Games in Birmingham with aspirations of becoming a discipline in its own right at the 2026 Commonwealth Games.
Three different esports titles will be contested by eight nations at the Birmingham International Convention Center in a showcase of the growing discipline.
There will be eFootball an online version of a football match; Dota 2 a battle arena game in which teams destroy opponent structures while protecting their own; and Rocket League a score game that is a combination of football and cars.
The under 30s were the main viewers of esports and New Zealand eSports Federation chief executive Jonathan Jansen could see why traditional sporting events wanted to line up.
"It's not necessarily very important that esports be included in the world of sport, I think the opposite is probably the Commonwealth and the Olympics need esports more than esports need of this ecosystem," Jansen said.
There will be an open category and a women's category for each title at the Commonwealth Esports Championships.
Amateur players, who play outside of their daily work, and those who are paid to play will fight side by side.
Jansen said the new path, which also targets the 2032 Olympics, is not just about athletes.
"It's actually more important for their parents and the public to see esports for the first time in an area they know better.
"For esports athletes it's not the showpiece event, they each have their own individual disciplines with their own world championships that they all aspire to, but it's a rare opportunity for them to compete to represent their country."
Former Otago Age Group Rugby representative Aidan Young, also known as Azylu, is one of New Zealand's finest eFootball players.
Last night the 22-year-old took on Josh King, known as JMKKing, in a small soundproof room at LPL Studios on the second floor of the Sky Tower – in a final watched on TV by thousands of people.
The AFC Bournemouth fan only started playing football in real life after trying his hand at the game.
Young has been playing competitive esports since he was 16, but never imagined he would be on his way to representing New Zealand.
"I didn't think it would go this far and I'm pretty happy about it because [esports] is something that engages people. Not everyone is made for sport, not everyone can do sport, whether it's if you have a disability or if you don't like it or if you simply have other passions.
"People love computers, people love video games and I think it's beautiful that they add this component because if chess is a sport why not esports."
King, a 22-year-old from South Auckland, grew up playing on a football pitch but switched to the online version of the game.
He had a piece of advice for those who would be new to watching esports when it was part of the Commonwealth Games.
"Don't try to think of it as an actual sport, I know that's the comparison that's always made, try to see it as its own thing and keep an open mind when you watch."
For all the differences between esports and traditional sports codes, there were parallels.
Jansen compared players' reaction times to those of a Formula 1 driver and training hours spent in any other sport.
High Performance Sport New Zealand supports the country's premier esports high performance program to help build understanding of what makes an elite athlete.
"Over the past 100 years we've refined exactly what an elite rugby athlete looks like, but for esports we're really at the start of this journey which is exciting for us because you're watching the Olympics from 1920 and you compare any event to the Olympics today and it's just night and day in terms of performance, a lot of that is down to the high performance structures," Jansen said. .
"What the high performance program will look like for our athletes this year is starting to take basic psychometric tests and understanding what kind of skills do you need to excel in esports.
"They have to be able to be precise to the pixel, which is the width of a human hair, and therefore be able to make a decision quickly, react and then have that mental muscle connection to move to the game. particular on the screen, how important are all these things that control your heart rate, your breathing, your adrenaline, there are a lot of physiological aspects in high performance esports that we want to explore."
New Zealand eSports Federation president Conor English said there were a number of informal gamers in New Zealand, playing at home and with friends, but now those gamers were realizing the paths they could follow.
The Commonwealth Esports Championships on August 6-7 will give esports a boost, according to English.
"Having an EBlacks team at the Commonwealth Games should raise awareness and excite all the esports opportunity that exists for New Zealanders and I believe we will achieve even higher turnouts and particularly high turnouts in competitions that we organize across New Zealand."
But before Birmingham, New Zealand athletes will take part in the online global qualifiers – and if they can place in the top eight teams or top 16 individuals, they will qualify for the Commonwealth Esports Championships.
English was cautiously optimistic about New Zealand's ranking on the world stage.
"We've got some really good players, there's a bell curve of players if you talk to someone like me, I'm totally and utterly hopeless in esports. Which is great to have international competition at the level of the Commonwealth, we are going to test ourselves against other countries."