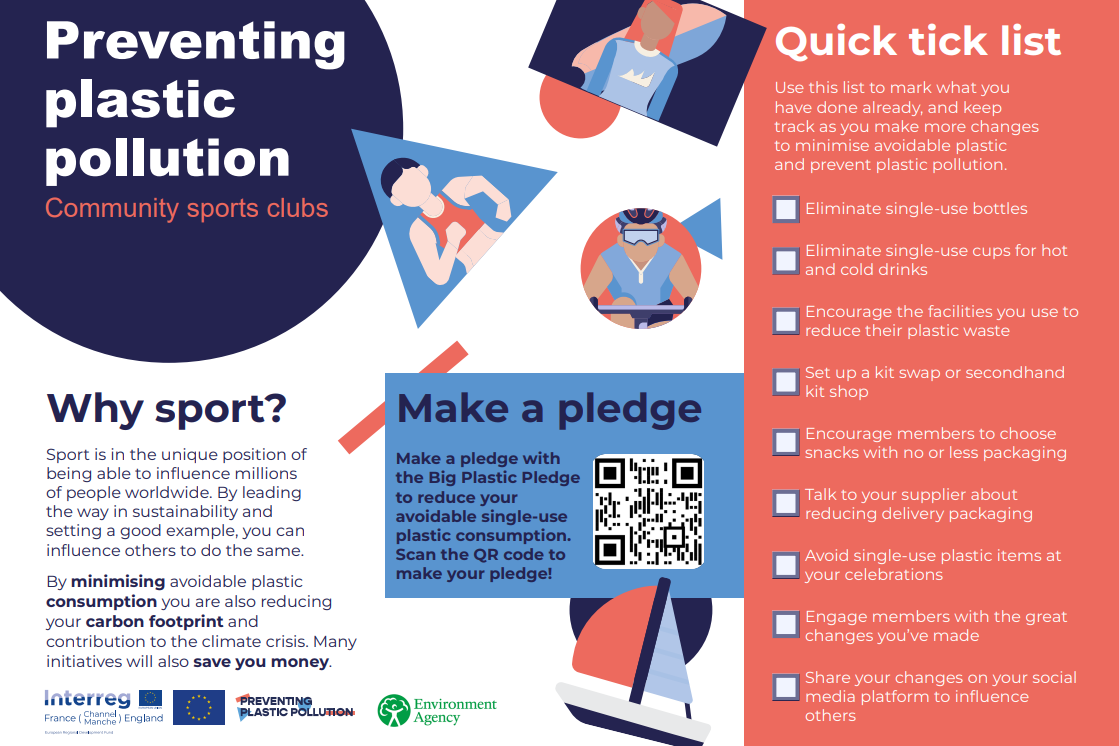 Environment Agency encourages community sports clubs to become sustainable
Flyers focusing on the economic, social and environmental benefits of reducing plastic consumption will be launched at an international GreenSports Network event on Wednesday, December 15.
The network event brings together national governing bodies, community clubs, event organizers and sport participants to exchange ideas and practical experiences to reduce the carbon footprint in community sport.
Hannah Amor, Project Manager of the Environment Agency's Plastics and Sustainability Team, said:
The new orientation is ideal for clubs wishing to strengthen their green credentials. They can learn tips on how to trade in sustainable kits, reusable products, new sustainable club measures, and how to influence the adaptation of bathroom, kitchen and waste facilities to help reduce avoidable plastic consumption.

These small changes can help communities cope with the climate emergency, potentially saving money, and encouraging other clubs to become sustainable role models in their communities as well.
The guide also encourages readers to sign up for the Big Plastic Pledge – a global campaign founded by Olympic gold medalist Hannah Mills that calls on sports representatives to step up their efforts to tackle plastic waste.
The flyers build on the sport sustainability guidelines for events and stadiums released in September by the Environment Agency.
The new guide was produced on behalf of the Interreg Plastic Pollution Prevention (PPP) project, a cross-Channel partnership of 18 expert organizations, which identifies and targets plastic hot spots, implements effective solutions and alternatives. , and integrates behavior change into local communities and businesses.
The PPP project supports the ambition of the Environment Agency to promote better environmental practices that translate into reduced plastic waste, helping to achieve the goals and commitments outlined in its five-year EA2025 plan to create better places for people, wildlife and the environment, and the government's 25-year environmental plan.
Experts say 50% of all plastic produced is for single-use items – things that are only used for a few moments and then thrown away. Approximately 12 million tonnes of plastic enter our environment each year, which is equivalent to a garbage truck load every minute.
Notes to Editors
Environment Agency: As a regulatory body, the Environment Agency prevents plastic waste from entering the environment by combating waste-related crime and mismanagement of waste. As an influencer, his ambition is to promote better environmental practices that translate into reduced plastic waste, helping to meet the goals and commitments set out in his five-year plan to create better places for people, la wildlife and the environment, and the 25 Environmental Plan of the year.
Prevention of plastic pollution (PPP) – PPP is a project of the European INTERREG VA France (Channel) England program financed by 14 million euros and co-financed by the European Regional Development Fund which works mainly on 7 pilot sites: the port of Brest, the bay of Douarnenez, the bay of Veys, Poole Harbor and the Medway, Tamar and Great Ouse estuaries. The partners are the Environment Agency, the Department of the Environment, Food and Rural Affairs, Queen Mary University of London, LABOCEA Conseil, Expertise et Analyzes, Syndicat mixte public establishment of management and planning of the bay of Douarnenez, French Office of Biodiversity, Iroise Marine Natural Park, Brest Métropole, National Center for Scientific Research, Departmental Council of Manche, French Research Institute for the Exploitation of the Sea, The Rivers Trust , Elorn Basin Syndicate, ACTIMAR, Brest 'aim, Westcountry Rivers Trust, South East Rivers Trust and Plymouth City Council.
GreenSport Network – The GreenSport Network managed by Sports Marketing Network, aims to collect and disseminate best practice examples from community sports providers at all stages of their development to become environmentally friendly. It also helps train potential green sports providers on how to develop and manage sustainable businesses.
Big Plastic Pledge – The Big Plastic Pledge is an athlete-led movement to combat single-use plastic in sports.