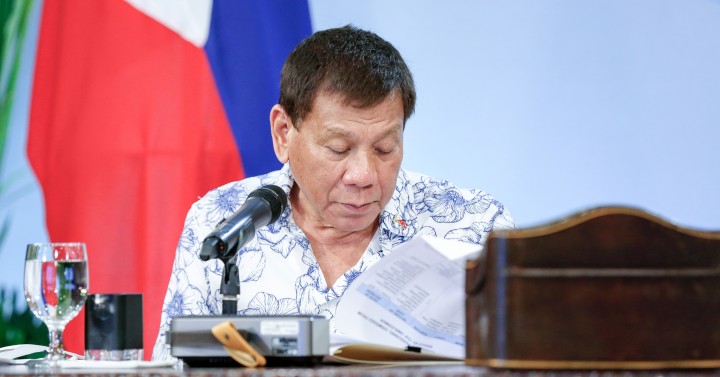 Duterte accepts Parlade's resignation as NTF-ELCAC spox
MANILA – President Rodrigo Duterte has accepted the resignation of Army Lieutenant-General Antonio Parlade Jr. as spokesperson for the government's counterinsurgency task force, Malacañang said Thursday.
Parlade tendered his resignation as spokesperson for the National Task Force to End Local Communist Armed Conflicts (NTF-ELCAC) "a month ago" to ease pressure on task force leaders who are being questioned by lawmakers.
"Tinanggap po ang resignation no General Parlade as spokesperson for NTF-ELCAC (the resignation of General Parlade as spokesperson for NTF-ELCAC has been accepted). So that's what I was able to confirm from [Defense] secretary [Delfin] Lorenzana, "Presidential spokesperson Harry Roque said during a press briefing in Iloilo City.
Parlade, who is also the command chief of the Philippine Armed Forces (AFP) South Luzon, is expected to retire on July 26 when he reaches the mandatory age of 56.
In a press release, Parlade said it was satisfied with the development as the NTF-ELCAC now has civilian spokespersons for the NTF who will continue the fight with passion and conviction.
However, despite his resignation as NTF ELCAC spokesperson and pending his retirement from military service on July 26, Parlade said he would continue to defend the country against the Communist Party of the Philippines-New People's Army (CPP -NPA) and its allied organizations.
Several lawmakers had previously called for funding NTF-ELCAC's PHP 19 billion budget and reallocating its funds to the Covid-19 response after the alleged profiling and red marking of community pantry organizers by the police personnel.
Last May, NTF-ELCAC Vice-President and National Security Advisor Hermogenes Esperon announced that six other officials would join PCOO Undersecretary Lorraine Marie Badoy and Parlade as the group's co-spokesperson. of work.
The six new spokespersons are:
* Department of Interior and Local Government (DILG) Undersecretary Jonathan Malaya – Local Government Affairs, Barangay Development Program, International Engagement;
* Secretariat of the Presidential Human Rights Committee (PHRCS) Undersecretary Severo Catura – International affairs, peace process, human rights concerns;
* Undersecretary of the Office of Presidency Communications Operations (PCOO) Jose Joel Sy Egco – Mass Media Engagements, Fact Checker;
* Department of Transport (DOTr) Assistant Secretary Céline Pialago – NTF-ELCAC Public Affairs and Information, Youth Concerns;
* National Commission of Indigenous Peoples (NCIP) Lawyer Regional Director of Caraga Marlon Bosantog – Legal Affairs, Concerns of Indigenous Peoples; and
* Gaye Florendo of NCIP – Deputy Spokesperson on NTF-ELCAC Public Affairs and Indigenous Peoples Concerns. (ANP)